She's a track star on two wheels running. While you may see quite a few girls basking in the excitement of being on the aft seat of a sportbike as their guy takes charge, after this interview, you'll understand why it's not Jenny Besaw's place to be the back seat rider. Having been riding for six years now, Jenny has been blazing up in the regional racing circuits of the Northwest, US and she's not slowing down a bit.
I've known Jenny's sister, Amy, since I was fourteen from Jr. High School. That's not why I wanted to interview her of course, but I guess it's funny how a link from years past can create a more personal interest to learning one's story, as she and I both lived in Korea (her, longer than I), we are both from mixed cultures (she's half Native American, half Korean – what a mix!) and by total coincidence have the same bike (her Honda CBR600rr has way more mods) and the same SUOMY helmet. It was in the stars that I would interview her right?! ;) Just kidding…
The idea of the interview REALLY came from being inspired from observing Jenny's fearless attitude on the racetrack, her genuine love for what she does and even the camaraderie and shared passion for riding with her teammates and others that want to learn (not to mention, the girl knows how to use a wrench! She works on her own bike!). All of these became the right ingredients for the delicious inspiration she feeds to us, so here is a bit of her perspectives and experiences on the racetrack (and off!).
감사합니다 Jenny!
——————————————————-
RRRG: Where were you born/raised? Where do you live now?
Jenny: I was born in Columbus, Ohio but remember most of my life living in Seoul, Korea on the military base called Yongsan. My father retired from the military and decided to move to Tacoma, Washington. I've lived in Washington since 1991 (11 years old). I move down to Oregon for a few years after high school but returned a few years later to Washington to finish up my Bachelors Degree from the University of Washington.
RRRG: How long have you been riding sportbikes for?
Jenny: I started riding in the summer of 2004 – that makes it 6 years this summer.
RRRG: How did you get into riding/racing?
Jenny: I've always wanted to ride a motorcycle but never followed through with purchasing one. An ex-boyfriend said that I'd never ride one and as soon as we broke up, I figured why not prove him wrong! I purchased my first bike in July 2004 and have never looked back since. It wasn't until the summer of 2005 that I wanted to learn how to ride a racetrack. A few friends thought it would be fun to attend a WMRRA (Washington Motorcycle Road Racing Association) event. We showed up late but we were lucky enough to watch the final race of the day. Watching the bikes zoom by sent shivers up my back and goose bumps all over my body. I've been hooked ever since. I signed up for my first trackday with the Mike Sullivan Race School. He organizes an all women's event which appealed to me. I was nervous getting on track with guys who had something to prove. After putting this day under my belt, I was ready and excited to get out there with the boys.
RRRG: Who were your biggest inspirations on getting you amped to race/ride?
Jenny: My biggest inspirations were two other women racers in WMRRA: Amber Rimes and Wendy Leber. They are two well-known riders from the WMRRA and were Top 5 finishers; I wanted to be just like them. They are both talented riders who stepped outside of the box and proved to their male counterparts that women can do it too.
RRRG: How long have you been competing?
Jenny: I signed up for a novice school through WMRRA in 2006 – 4 years total. I didn't have enough money to race on a consistent basis but I did a few rounds through the year. It wasn't until this year that I plan to race as much as possible.

Jenny in her trademark white lightning…
RRRG: Are these races semi-professional/professional?
Jenny: I participate in road racing at the club level which is equivalent to a regional level event.
RRRG: Do you race with both men and women? Or just women?
Jenny: I'm still a novice racer which means my novice races include both men and women. However, when I travel out of state I make sure that I sign up for the women's only races. When I first started riding, I attended an all women's event. There are women out there interested in riding but don't want to ride with men. The women's only class is a great way for them to start racing and it brings in money for the club.
RRRG: What competitions do you plan on getting involved in this year?
Jenny: I plan on focusing my efforts to the California organizations – AFM (American Federation of Motorcyclists) and WERA (Western Eastern Road Racing Association). I will be attending about 80% of the rounds with OMRRA (Oregon Motorcycle Road Racing Association).

Jenny practicing the throttle move… haha. :)
RRRG: What kind of motorcycle are you riding and racing? And the mods on it?
Jenny: I race a 2007 Honda CBR 600RR. I have done the majority of aftermarket mods excluding engine work. I have a full system Akropovich Titanium Exhaust, Ohlins TTX, GP cartridge kit, Bazzaz Fi, STM Slipper Clutch, Vesrah SRJL-XX brake pads, Yoyodyne Quick Throttle, 520 conversion kit with Renthal sprocket, Wave rotors, Goodridge dash-2 brake lines, Brembo master cyclinder, CRG folding clutch lever, BMC Air Filter, Gilles Chain Adjusters, Gilles Lifters and Gilles rearsets.
RRRG: Are you sponsored? If so, who sponsors you?
Jenny: I'm sponsored by the following: Griot's Garage, Inc., BellaBallistic, ALCARTS, Rapid Lean Six Sigma.
RRRG: How are you treated by your fellow male colleagues in the road racing world?
Jenny: I've been treated very well. There are times when you're on track and they start riding over the head because they don't want to be passed by a girl. But overall, they welcome and enjoy having women around that love the sport as much as they do.
RRRG: What is the craziest thing that has ever happened to you during racing/riding?
Jenny: During a novice race in at Spokane Raceways in Spokane, WA I ended up crashing in the middle of the race. I went into Turn 1 and hit a bump which disrupted the chassis and I was in a tank slapper. The bars were ripped from my hands. By the time I got them back on the bars I was already off track and riding through deep sand. I ended up hitting a berm and flipped over the handlebars. Our local photographer just happened to be shooting in the exit of Turn 2 and caught the whole thing. Those pictures have haunted me ever since. The pictures are funny to look at since I came out with only 2 bruises.
RRRG: We're so, so glad to hear that you were okay!! How many crashes have you been in?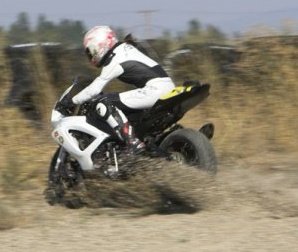 Spill!
Jenny: I've had a total of 3 crashes since I started riding a motorcycle. If we include crashes on a dirt bike… well that may take a while to figure out. :)
RRRG: Have you ever felt scared at any point during a race/riding?
Jenny: During a race I'm able to focus on getting in front. For some reason, during trackdays I have more fear than when in a race. The guys/gals riding at trackdays seem less in control than those that are racing.
RRRG: That's interesting…..but then how do you deal with the fear and resolve it?
Jenny: When riding during a trackday, I'll go out working on certain parts of the track. If I run into a group that are riding out of control, I'll pull off and wait for them to get a good distance ahead before reentering the track. I'd rather not be around a situation or riders that can't hold their line. Riding/racing is about being smooth and holding your line.
RRRG: What is your top speed on a track/raceway?
Jenny: My top speed varies from track to track. However, the fastest I've gone is 165 mph.
RRRG: Whew…..our bikes can go that fast? hahaha…what was your top finish in a race event/competition?
Jenny: My best result for the 2010 season has been a 3rd place finish in the WERA Women's SuperSport class.
Off-track….on another track. :)
RRRG: That's awesome! What about any other hobbies? What else do you like to do up there in Washington?
Jenny: I've fooled around on snowboards but found that cycling curves my anxiety for riding/racing. I just recently bought a road bicycle and wish I would have found this hobby earlier. I usually get pretty ancy during my down time from the race season but cycling fills that gap.
RRRG: What do you do for work?
Jenny: I work for Griot's Garage. We produce our own car care products and products for the garage. I'm the Merchandising Coordinator and love the fact that I enjoy my job. I'm surrounded by motorsport enthusiasts so it makes going to work a lot of fun when you can share your hobby with your coworkers.
RRRG: That seems a perfect fit. :) What are your future goals (personal and riding)?
Jenny: My personal goal would be to grow within Griot's Garage. I began working in the call center taking orders and slowly moved my way up. My goal would be to manage the department or possibly move in to a VP of Marketing role.
My goal for riding is to have fun! I set race weekend goals of beating my best time. I never look at where I'll place during a race. I prefer to push myself on lap times. If I beat my set lap time during the race then I've achieved my goal.
RRRG: Do you see the number of women getting involved in the sportbike scene growing? What do you think about it?
Jenny: The numbers are rising at a substantial rate. It's good to see that women aren't afraid to ride. I've found that with some organizations the women have drama. However, this isn't always the case. I try to make sure I go out of my way to meet them and help them in any way I can. The easier it is to introduce them to the sport, the easier it is to get hooked. Retailers have finally realized that there is a market with women and are starting to produce more women specific gear. My pet peeve is seeing women that act as if they can't do what men do. Why would women want to put themselves down like that? We need to be proud that we are women!!
RRRG: Do you think women are recognized for their skills in racing as much as they should be?
Jenny: Women are highly recognized. The competition between males is fierce and finding sponsors is hard. However, if you're a quick female racer… you will be sponsored by a lot of companies because the women's market is small. Some men find this unfair but then again, life isn't fair! Women need recognition for breaking out of the normal "MTV, high maintenance" mold to help encourage others that they can do it as well.
RRRG: Ahh….yes. And that's what we're trying to do here. So thanks to you for that too. :)
So I have to ask you this now……is it hard to ride on the back of a motorcycle? hahaa…
Jenny: It is hard. I am not in control and just don't like that feeling. I have tried to ride on the street but find that there is just too much going on. Trees, gravel, oil, cars, people driving cars that aren't paying attention! Plus when you are used to riding the motorcycle hard it is hard to limit your speed on the street. If I stay off the street, I don't have to worry about speeding tickets.
RRRG: Thank you so much for your time Jenny…..have you got any shoutouts?
Jenny: I want to say "Thanks" to my family who have supported me through years of being a tomboy. They have been afraid because of the dangerous nature but whenever I need help they are there. Also to my boyfriend, Justin. He has helped with advice to make me a better rider and mechanic.

Jenny with her fellow riders
Interview by Christine Cauble