Salaam! ("Peace" – a common Arabic greeting). I had the pleasure of going back to one of my favorite places in the world: Jordan. It seems that in these times with all the controversy and tension going on between my own country of America and some parts of the Middle East, I would like to share my own experiences from these areas in photos and some words.
In all my travels of visiting predominately Muslim countries (Saudi Arabia, Jordan, Qatar, Oman, UAE..and then African and Asian predominately Islamic countries like Malaysia, Indonesia, Mali and Morocco)….I can say as an American, I've never felt like I was in danger or afraid. I feel sadly, the media (news, radio) in the US embellishes on and focuses a lot of their stories on the negative; stories of bomb threats and terrorist acts as if that's all every citizen's hobby there.  You see a lot of bloodshed, you see the tears, you see the anger….but there is also another side.  Reading the U.S. headline news today, I see that five people got shot at a party in New Jersey, ten people got shot at another party in LA….and it all happened overnight.  The U.S. has a higher crime rate than any of these countries (Saudia Arabia and Qatar rank as countries with the lowest homicide rate).  So where should you really be afraid to live?
I've never been greeted or embraced more warmly than in the Middle East, that it seems to have this limitless cap on friendliness.  A lot of the locals love to meet new people and are accepting of Americans and people from all over – regardless of religion.  The societies seem to be rooted in their traditions but that doesn't mean they turn their head to anything new.  Why take out anger/hatred on people who aren't involved in the politics when we can learn to differentiate the government from its people?  Anyway, enough of my speech here.
It just excites me to think that more and more people will be able to do their own investigating and to keep their minds (and their hearts) open.
Having not had the time to complete the tour of Petra on my first trip to Jordan due to a late start, I decided to accomplish that feat, along with climbing in Wadi Rum. Sadly, there would be none of the latter as I arrived during Ramadan (a Muslim holiday as important as Christmas in the Western world). Guides that were usually aplenty were out of town or home celebrating with family; and who could blame them? Who wants to work on Christmas?
Understanding this issue, my partner and I decided to just do a lot of hiking and felt grateful enough to be surrounded by ancient Nabeaten-chiseled rock, hikes that would give us a hearty workout, delicious food and new adventures. Petra was amazing as usual. I will never tire of this ancient city. We were lucky to hike it in just a few hours ahead of large (annoying!) tourist groups.
Wadi means "valley" in Arabic and the name literally means "Valley of the Moon". My partner, Matthäus and I, decided to hike Jebel Burdah ("jebel" meaning mountain, "Burdah" meaning cloth or cloak). We wanted the breathtaking view of the mountain chain and a friend of mine suggested this area even though Jebel Rum is the highest mountain in the area. Matthäus and I went unguided but found our way easily (well, kind of easily…we definitely made our own path in some areas) up to the very top where a crazy formation called Burdah Bridge extended its welcome to us. This ancient sandstone rock bridge looked as if it's got another 100 years before falling down into the gully below. I was just keeping my fingers crossed that it wouldn't suddenly get the feeling to do that while I struck a yoga pose and took jumps on it.
That evening, I slept on the roof of the Rum Village guest center (they don't have hotel rooms; only sleeping options are tents or the roof). Using a blanket of stars overhead to keep me covered is my favorite way to sleep so I took the roof option and even got to practice shooting the stars.
This time of year (September) was still pretty hot….however, due to the dry climate, it doesn't feel too bad and you don't sweat so much. The climbing is primarily traditional, however, there are bolted routes and I met two brothers…. wonderful people; Omar and Abdullah who bolted some of the routes. I happened to meet Abdullah when I went out for a solo hike right outside of the village but the darkness overcame me as I hung out to try and entice some wild cats I met in a boulder area to meet me. There I was calling out to them as I spotted their reflective round eyes peering at me in the blackness. Then I heard a person and saw a faint shadow. They spoke a greeting and I answered back. It turned out to be Abdullah and we chatted for a moment before he invited me over for sweet tea and an introduction to some of his family. It was a great evening and we all chatted about climbing, the world and the way of life in Rum Village.
The next day, the King's men descended upon the village. No kidding. They were setting up for a huge celebration for the Queen's birthday and honor in a desert area a few miles outside of the village. Perfect timing for us to leave! It would be too hectic for us.
I'm grateful for the unique time I had there and shared with everyone…….I will hopefully be back soon. To climb this time! :)
My capture of the Milky Way
There is a lot of climbing here……..
A part of Jebel Ram – the highest mountain of the gang
Some of my favorite food! Hommous,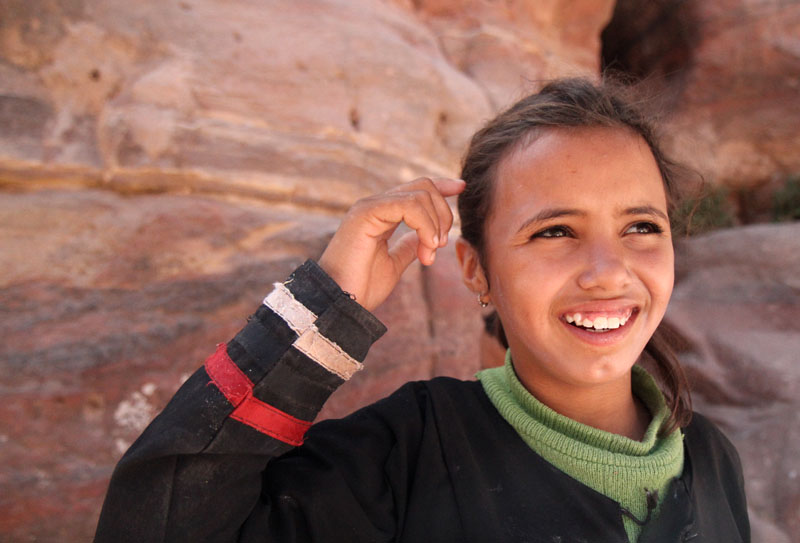 Beautiful, bedouin girl at Petra
Women clocked in their abaayas. Petra.
Two bridges.
Thaus does his backflip in the desert. Amazing!
More yoga posing…on Burdah Bridge. It was scary!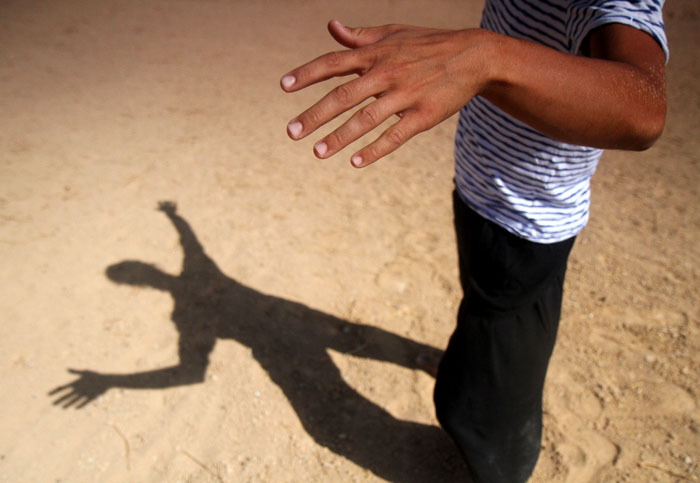 Thaus- hand and shadow
Dried grass