I was bored by the skateboard…" so Aurelie says. Next thing you know her four-wheeled passion turned in to two and it's been that way ever since. At 21 years, Aurelie has been making her way up in France's BMX scene even after only one year of riding; it's an activity that few girls take part in in her country. Currently in cosmetology school, Aurelie will always find time to ride out her passion. Here is an interview I did with her conducted in my very coarse French and her amazing knack for English:
RRRG: Bonjour Aurelie! Ou habitez-vous maintenant? (Hello, where do you live right now?)
Aurelie: I live in a small village next to Lyon.
RRRG: Tell us a little about your background. Are you in school right now?
Aurelie: I was born in Thailand and arrived in France at 4 years old. I am in cosmetology school, to be an esthéticienne (cosmetician).
RRRG: Are you competing right now?
Aurelie: Not yet, but I would like to do BMX competition. It's a great way to meet other girls that ride too. I started BMX only one year ago. Before, I was a skateboarder and there were more girls that skateboard and are in competition. In France, there are not a lot of girls who BMX, only a few like my friend, Alice who is awesome. There are a few girls that ride in France but more in Germany. I was in Germany for the BMX Masters and I met girls that ride there. There are more girls around the world outside of France that ride. Congrats to Becci from Germany and all the others of course. I am waiting this summer to come back to Germany for BMX World where they will have a girl's competition. I cannot ride against the boys, it's not allowed! My first time in comp will probably be in July for BMX World in Cologne, Germany. It's the only event where there is a girls category.
RRRG:Awesome! We will be watching you for that. Combien vieuz a fait vous commencent riding BMX?? (When did you begin riding BMX??)
Aurelie: I started BMX in Summer 2008. I was bored by the skateboard and I wanted to discover a new feeling. I like pain! So BMX is perfect hahha..
RRRG: Comment avez-vous obtenu commencé ? Les amis vous ont-ils inspiré ? (How did the interest in riding start? Did friends inspire you?)
Aurelie: You really want to know how I had discovered BMX?? From the international competition in Franch, Fise, every year in Montpellier. There are skateboarders, rollers, BMX, loads of events. I was skateboarding on the big ramp and I met some English riders. We talked and I tried out their bikes. Then I watched the BMX competition and I fell in love!!!! I started BMX a little later because to buy the bike, I needed money! hahaa..
RRRG: Have you won any competitions?
Aurelie: I don't compete yet but soon. I tried it out at Fise but only for fun. I was the only girl. I won 69th place out of 80 riders.
RRRG: That's pretty good. Especially for only one year..
Aurelie: Competing is not very important though. I just want to have fun with my bike!
RRRG: Are there any current tricks you are trying to learn right now? Any specific ones you have been working on? Or do you know them all.
Aurelie: I know them all for sure!! haha…Nah, really, I'd like to learn the Bunny Bus. I like it.
RRRG: Do you do anything for a warm-up before you ride?
Aurelie: No. I don't care to…I'm not afraid!
RRRG: I love it. Fearless.
So…are the boys nice to you in the bike park?!
Aurelie: Yeah, the boys are nice of course. But I'm considered like everybody else. I am not the kind of girl who is afraid by pain or other things.
RRRG: Absolutely. What other activities and hobbies do you have a passion for?
Aurelie: I like martial arts. I did Tae Kwon Do for three years. I'm not really good though. haha..but I appreciate martial arts movies. I love shopping and music, spending time with my friends..
RRRG: So being born in Thailand, can you speak Thai?
Aurelie: Saw dee ka! ("hello" in Thai) Nah, sorry. I was too young when I left Thailand.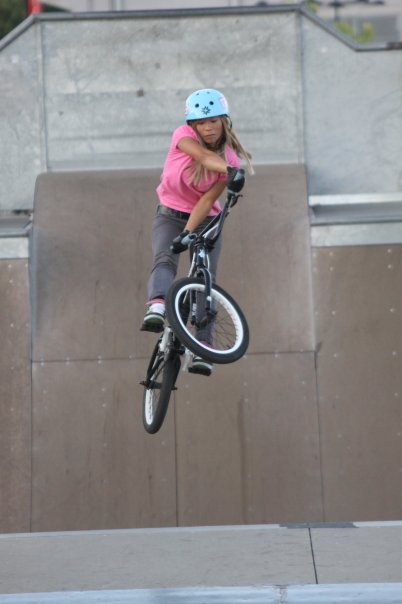 RRRG: Do you ever go to Thailand to visit?
Aurelie: I have seen their BMX competition in the Asian Outdoor Games but they didn't even have girls compete. No, I have never gone back after I left at four. I hope one day soon.
RRRG: Yeah, I actually saw that competition too. That was in Macau I believe. I noted that they didn't have any girls competing as well. But the Thai guys were outstanding. I think they ranked the top.
So what are your future plans??!
Aurelie: Well, to have fun!!
RRRG: Awesome…we hope you do. Keep living to the fullest! Do you have anything else you would like to share? Any shouts?
Aurelie: Thanks to everybody who helped me get started in BMX, who explained and taught me…Alice, Magali girls who ride from France, Rebecca and Fanny from Germany. My brother from here, Winai because he is a Thai BMX rider too. My friends from school who are amazing…all the people that I know that know I love them! Also, very important, FOX Europe, Crystal and Brode and the others at the FOX office I forgot..hahah..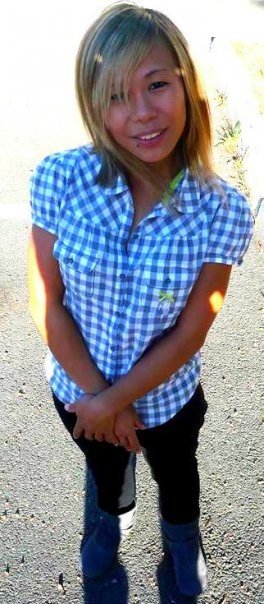 Interview and written by Christine Cauble