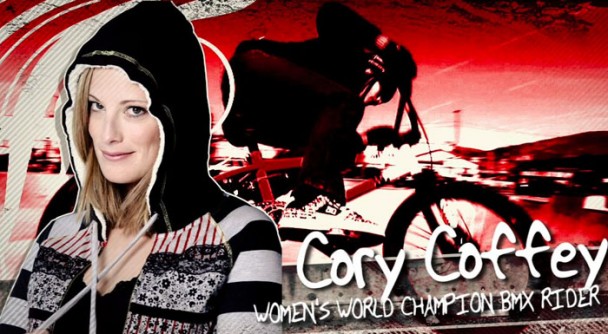 As one of the most recognizable names and faces in the BMX world, Cory is not only the two-time reigning champion in street BMX but is also credited as the first female to fearlessly perform a backflip.
Numerous injuries over the years have failed to roadblock her drive and her passion for riding and she continues on her two-wheels (mountain biking and BMX) to prove to the world that girls can shred as hard or harder than any guy. We are so happy to have caught up with Miss Cory during busy holiday times to learn more about her and to recognize this phenomenal, fearless woman!
RRRG: Hi Miss Cory, thanks for taking the time for this interview….first off, tell us where were you born and raised?
CC: I was born and raised in the small town of Ojai, California. It's pronounced O-Hi. I currently reside in Ojai, but need to get out of here!
RRRG: How old were you when you began riding?
CC: I started riding BMX at 14 years old. I raced back in the day.
RRRG: Is or has your family always been supportive of you pursuing a riding career? Or did they worry about the danger in it at times?
CC: My family has always supported me, but they are always concerned about the injuries. I stopped telling my parents a long time ago whenever I got hurt. I wait a while so they don't get worried.
RRRG: What inspired you to begin riding? Was it someone specific? Or you just saw people riding in passing?
CC: I grew up riding skateboards, so was always playing outside. I remember these two guys riding by on BMX bikes and they convinced me to get one. I started off racing at first, then switched to riding ramps and dirt jumps.
RRRG: That's so awesome…. when you first began riding were there many girls riding BMX at that time in your area? Or were you riding with mostly guys?
CC: It was strictly a boy's thing, I would be the only girl at the skatepark. One of the other riders had a sister that would come and play around on a BMX bike for a while, but other than that, I was always just hanging out with the boys. It's kind of fun being the only girl, the odds definitely work in your favor!
RRRG: But being the only girl, how were you treated as one of the only….learning tricks and trying to feel like "one of the group". Was it hard? Or were the boys fairly supportive? Are you still friends with any of those guys or do they ride professionally now?
CC: This is a very interesting situation that many girls will find themselves in when they ride BMX. For the most part, the guys were always cool, but there were times when I remember being the center of attention when they were all talking about my underwear. I can remember crying a few times as well when guys were totally mean, they were just intimidated by a girl who was better than they were.
I'm still friends with a couple of the guys. Many talented riders came out of our skatepark like: Chris Arriaga, Brian Terrada, Mike O'Donnoll and Arthur Galviez.
RRRG: How soon after learning did you begin competing? What are some of the events and areas of competition that you compete in?
CC: I did my first contest about 5 months after I started riding. My skatepark hosted one of the first Primo contests, and I think I placed top ten. The main events I look forward to are the Worlds and the BMX Masters. I compete in park.
RRRG: You must own quite a few bikes. :) How many bikes do you have? What kind of bike do you ride right now? Do you have a favorite?
CC: I have a few bikes, haha. I sold a lot this year. Currently I am riding a Redline Device.
I don't really have a favorite one, but one of my favorite colors I ever had was neon pink, with a clear coat of sparkles.
RRRG: Part of the fun of competing is evidently being able to travel to a lot of cool places. The girls would like to know some of the places that you have traveled to for competition?
CC: I've been all over the United States, Panama, Europe, and Africa. Although when I traveled to Africa it wasn't for a competition. I really want to go back to Africa and ride!
RRRG: If there were only few girls riding BMX, how were you able to compete in the beginning of your competition experiences? Did you compete with guys?
CC: When I first started competing, I was up against the boys. I didn't even think twice about it. Then we finally had the first girls class at Jamie Bestwick's contest in Ohio. It was an awesome turnout.
RRRG: You are known as the first female to perform a backflip on your bike….is this a trick that a lot of girls are able to do nowadays?
CC: There are definitely girls out there that are flipping out. They are much easier than a 360 but I think the idea scares some people.
RRRG: When you first were learning to flip, did you get injured a lot trying it? Or did you just charge, do it and got it down the first time?
CC: I learned flips at Woodward East into the foam pit. Second time I got the rotation down. When I took the flip to the resi, I definitely got broke off more than once; over rotated and got whiplash, under rotated and it hurt to go to the bathroom for the next week with serious bruises! I went for the backflip for the first time in competition in Mat Hoffman's CFB contest, and remember crashing really hard the first time. The adrenaline was pumping really hard, so I tried it a second time, crashed, got back up and did it a third time and pulled it.
RRRG: Way to go on not giving up….it obviously paid off. When you were focused on learning how to do a new trick, that could potentially be dangerous…..what kind of thoughts kick the fear out of you? How are you able to do it fearlessly and confidently?
CC: I don't think you can sit there and think about the "what if's". You focus on how to do the trick, not what could happen. The minute you hesitate is when disaster strikes.
RRRG: You have had countless of injuries……what keeps you going? Pain just doesn't seem to scare you!
CC: I've had too many injuries. Pain is pain, but it always makes for a good story, especially when you have a scar to share. I'm only 10 knee surgeries deep and will at least make it to 12. I look forward to wheel chair races when im older!
RRRG: hahaha…no way. You'll be the first ever to do a back flip on it if it ever happens. I read through your blog and saw the terrible accident you were in. The pictures are insane! You are extremely brave and courageous for having healed yourself up from that. Incredible. And it was from a recreational mountain biking ride? Not from practicing tricks or competing. What were some of your feelings going through this seemingly difficult time….from right after the injury to when you were in the middle of rehab and unable to ride for a while? Do you feel like you've learned a lot from this experience?
CC: I love riding bikes. BMX, Road, or mountain. It's something I do without thinking twice. I was on a casual ride and flew off the cliff, blew out my good leg. Since then I've had it reconstructed two times. It needs to be done again and im not looking forward to it. I've learned a lot from my experiences. I've learned to not live my life walking on eggshells, but to look at life as a gift and make the most out of every opportunity that has been given to me.

Face Plant Injury….read the full story and details on Miss Cory's blog: http://corycoffey.blogspot.com/
After knee surgery – several : /
RRRG: Are you competing presently? Or have any plans to?
CC: I have BIG plans in my head to take over the world everyday! As far as competing goes, I would love to compete in the Worlds for 2010 in Prague, and also hit up the BMX Masters in Germany. If my body is willing and able I will, but if not, I still want to be involved and help encourage all the other girls out there to go out and shred!
I think it's been awesome to compete, but at the same time, I think its more amazing to give back to the sport through inspiration and teaching.
RRRG: That's awesome – the girls definitely need you! What riders inspire you currently, if any? Guys or girls.
CC: There are soo many good BMX riders out there today its crazy. Coco Zurita is an amazing rider on and off his bike!
RRRG: Do you have a boyfriend currently? If so, does he ride as well?
CC: I'm too old for a boyfriend, I want a husband already!   Haven't met a man who is willing to step up to the plate yet! Other than that, it is fun when the guy rides, not BMX, but mountain or road.
RRRG: What other hobbies do you enjoy or hidden talents do you have that most don't know about?
CC: I love snowboarding, rock climbing, road bikes, mountain bikes, scuba diving, traveling, vegetarianism (14 years), hanging out with the youth, and loving people!

Cory rockclimbing
RRRG:Let me know if you're in Vegas; we'll go rockclimbing girl. :) Then mountain biking. Do you make a living as a professional BMXer or do you have another gig on the side?
CC: I have made a living riding bicycles, and have had real jobs as well. I currently am just hanging out for now, riding bikes everyday, working out with my trainer, and looking to maybe get a job in the bicycle industry!
RRRG: That sounds exciting, especially if you can have a job you love. You seem to have a great balance of having what we deem as feminine qualities but at the same time, having the fearlessness and aggression of a guy when it comes to riding. (it's too bad that we have stereotyped these qualities to these genders but that's the only way I can describe it…) Would you describe yourself like that?
CC: 5 years ago, I wouldn't think twice about attempting something on the bike. As I get older, I find myself thinking way too much about things. I get this strange feeling that it's only going to get worse as I get older.
RRRG: Are you currently sponsored? If so, by who?
CC: Fluid, Truth Soul Armor, Freestyle USA, Pryme, Women's Sports Foundation, ODI Grips, and Redline hooks me up with bikes (I think).
RRRG: Have you noticed any considerable changes in the BMX community or competition scene since when you first began to ride? If so, what are the changes? Good or bad or both?
CC: BMX has exploded since I started riding. The whole internet movement has been the biggest change I think. Before, you would wait to see what was going down in the latest magazine, now you can read people's Twitter pages instantly and get the latest news, or log onto the BMX websites and BLAM! Also, the products that are out there now, everything comes in special sizes and colors now. It's wild.
RRRG: What are your holiday plans?
CC: Hang out with the family, ride my bike, celebrate Jesus's birth, hopefully make it to the snow (even though I'm not allowed to snowboard), and basically just keep on trucking!
RRRG: What are some of your goals for the new year?
CC: Get more and more girls/women active in some sort of sports activity, inspire/teach others about BMX, travel, get a job in the bike industry, and somehow give back to society.
RRRG: What advice would you give to the young girls who are starting out in BMX right now…with all that you have learned and the injuries you have sustained?
CC: Persistence! You have to stick with it, be dedicated, and truly have a passion for what you are doing. If you don't have love for something, it's useless. BMX will draw blood, get you plenty of stitches/staples, and maybe even get you on a first name basis with the people in the emergency room, so always be prepared for the worst, but expect the best!
RRRG: Do you have anything else you would like to say or any shout outs??
CC: Thank you to all my friends/family, riders out there who shred, all the girl riders I've been able to hang out with, sponsors (current and past), my trainer for getting me back in order, and my Lord and Savior Jesus Christ!
You can continue to keep up with Cory on her blog:
http://corycoffey.blogspot.com
Twitter: http://twitter.com/MissCoryCoffey
Myspace: http://www.myspace.com/misscorycoffey
Video for ESPN on Miss Cory:

Miss Cory Coffey, Winner of ESPN's "Her Story." from Ryan Smith on Vimeo.