Stephanie climbs "Caustic", Cannibal Crag, Red Rocks, Nevada
Who says it's not all in a name? She certainly represents hers to the fullest. Who says you can't have it all? Because this woman does.
Stephanie's surname, the word 'forte', means "strong" in Italian (etymology from the Latin word fortis) and it seemed to have been pure kismet for her to be born into. Physically, mentally and spiritually it can be used to describe this beautiful, Italian-American rock climber.
Stephanie Forte is not only running her own company, Forte Creative Media, she is one of the strongest and most tenacious women in the Las Vegas climbing community and around the nation. Depending on the weather and the mood, you might catch her out on the sanguine-colored, striaed sandstone of Red Rocks, delicately scaling up technical routes or powerhousing her way up on the grey limestone ascents of Mount Charlston. There is no discriminating here; she loves all rock and it's become a beloved and necessary part of her life. In addition to her company and climbing, she is an activist and a founding board member of HERA ( a women's ovarian cancer foundation), a dedicated yogi, a former snowboard instructor, an MMA fan (mixed martial arts), regional reporter for Glamour magazine and contributing editor for Climbing magazine and she is adaptable in playing both the role of city chick and desert/backcountry dame. That's balance I tell ya….
Please don't mention to her that there is anything she can't do because she will set out to prove you wrong. Living strong and living dynamically is her forté……
Elephant Man, 5.13b Red River Gorge, Photo: John Evans
RRRG: Where were you born? Raised? Live now?
Stephanie: I was born and raised in New Jersey –I graduated from Ramsey High School, in Ramsey New Jersey, which, like most of New Jersey, is a suburb of New York City.
I went to college in the Boston area (Bentley University, BS in Economics & Finance); returned to the NYC area for roughly two years.
I moved to Aspen, Colorado in 1991 and then to Las Vegas at the tail end of 1998, where I currently live.

RRRG: How did your passion for climbing begin?
Stephanie: There are those life-altering moments in our lives – like the moment you fall in love or give birth to a child, etc. For me, the big moment was the first day I learned to climb; it completely changed the direction of my life. In many ways, it changed the very core of my being, which may sound extreme but if you only knew me then …
Before moving to Aspen, I hadn't even heard of people climbing rocks; I was not athletic at all and had no interest in the outdoors whatsoever. Had the category existed, I would have been voted the least likely to get dirty in high school (I was, however, voted best dressed. :)
While working at the Aspen Athletic Club, where they had a small climbing wall with three top-rope stations, I struck up a very unlikely friendship with the staff-climbing instructor, Pete Heck. We were complete opposites, I was fresh out of the city/suburbs and he was the first snowboarder on ski patrol, was one of the strongest climbers in Aspen – just an all around mountain-man extraordinaire. Instantly, we became great friends – and remain so to this day.
As an employee, I had to try the climbing wall out in order to explain the climbing program to members and guests. I insisted Pete teach me, but only after the club closed. I loved watching people climb, but it just did not seem like something I'd be able to do. I just couldn't envision myself as a climber. Much to my surprise, and Pete's too, the movement of climbing came really natural to me.
That spring we went outside for the first time – on Independence Pass just outside of Aspen. That was it, I was addicted. It was a slow start – at that point in my life I was discovering many new things like my ability as an athlete; so while I love climbing, I was also into trail running, hiking, cycling, etc. It was an amazing period of life, full of adventure and self-discovery.
RRRG: What types of climbing do you partake in the majority of time when you're out? What do you think of each in relation to what you are striving to achieve from the sport?
Stephanie: I primarily sport climb and boulder, though I really enjoy traditional climbing as well.
What I'm trying to accomplish in climbing has certainly changed over the years, but climbing constantly gives me the most extraordinary gifts. In sport climbing and bouldering, it's been about the movement – achieving this delicate balance of strength, power and grace to execute gymnastic moves. It's challenged me to expand my thinking in terms of problem solving and training. The experience of redpointing in sport climbing taught me about how to undertake what seems like an impossible task, identify my weaknesses and devise a plan to address those in order to be successful. That type of thinking translates to all part of life.
Traditional climbing: we've had a long, interesting and somewhat complicated relationship. I started out trad climbing but at the time, the entire outdoor experience was so overwhelming that managing gear was just too much. Remember, before that time, my idea of recreation was shopping. Over the years, I started to build up this mental block about trad climbing, thinking it's just not something I'd ever be successful at. Every time I'd go trad climbing, I'd revert back to Stephanie circa 1992.
Finally, a few years ago, I bought a new rack of year and went out trad climbing. I just approached it with a much different attitude and found myself falling in love with climbing all over again. It's amazing how powerful our mind can be.
Holiday Wall, Red Rock – Photo: Jared McMillen

RRRG: Were there any particular people who inspired you at the time you began climbing?
Stephanie: There have been countless people who have influenced my climbing – people like Pete Heck who opened the door to the climbing life for me. There were so many women climbing in Rifle in the early to mid-90's who showed me what was possible to achieve. I remember seeing this tiny woman climbing a 5.12d in Rifle, about the time I'd just redpointed my first 5.10 and I was blown away. I went home and thought, if she can climb like that, than why not me too.
Of course, along my journey and climbing travels around the world I've met climbers of every ability level who have been gracious enough to teach me something special about climbing and life.
RRRG: Who or what inspires your love for climbing at present?
Stephanie: I can't say there's something that inspires my love for climbing – it just is. Climbing is the one thing in my life that's been consistent, that constantly challenges me, gives back to me in ways I find very difficult to express in words. I guess on many levels, climbing is my one true love.
RRRG: Although there are a good number of women who climb, do you think there is more of an effort needed to promote the awareness of women involved in the sport?
Stephanie: It's important for women to understand the options that are available to them in all sports. To me, climbing is something very special and personal. It's been such a powerful force in my life, of course I hope that other, unsuspecting "city girls" will discover how amazing climbing can be.
RRRG: Have you ever been in a situation where you were made conscious of your "gender" as a climber in ways that could be perceived as both "positive" and "negative"?
Stephanie: When I first started climbing that was more of an issue – now there are so many women climbing at a high level that it's not as much of an issue. I do remember coming to Red Rock on a climbing trip in the early 90's with my friend Amy. She was a competitive snowboarder and had two broken thumbs from a border-cross contest, so she couldn't climb.
We were at a very popular sport climbing area in Red Rock, The Gallery, where I'd hoped to climb on a popular 5.11+, Yak Crack. There were several guys trying to redpoint the route and I was intimidated to ask if I could work in the mix. Amy was definitely not shy, and dropped our rope under the route and announced it was my turn. The guys all explained how they were getting ready to redpoint – it was clear they were not happy about my getting on the route.
I ended up doing it my first try – it was my hardest flash to date at that point. I think I was so nervous and at the same time mad at the way the guys responded to us, I just couldn't let go.
Amy lowered me and very casually we packed up our stuff –as if it were no big deal. Once we got around the corner where they couldn't see us, we were jumping up and down and hugging one another. Then went out to celebrate.
RRRG: Awesome story!! Do you see climbing as a sport? Or as a way of life as well?
Stephanie: It's a lifestyle sport — the lifestyle is what makes it so special.
RRRG: In what areas have you climbed in the US and abroad?
Stephanie: I lived in the back of my pick up truck for well over a year, traveling and climbing so I've hit a lot of spots in the United States: Smith Rock, Yosemite, Bishop, The Needles, Indian Creek/Moab, Hueco Tanks, Red Rock, Rifle, Wild Iris, Red River Gorge, Enchanted Tower … the list could go on and on.
Outside of the U.S.: Thailand, France, Spain, Italy and Greece –and of course Squamish!
RRRG: What are your favorite areas to climb and why?
Stephanie: I love all the areas around Las Vegas, which is why I choose to live here –Red Rock and Mt. Potosi. I also love Rifle and the Red River Gorge for the style of climbing –they lend themselves to really interesting movement.
I love places like Indian Creek because the landscape is so incredible. The first time I went to Indian Creek, I woke up in the morning and went for a run and I nearly cried because it's so beautiful. I felt so happy that I was lucky enough to be there and sad for people who would never experience the powerful energy of the place. It's really special –and even though I'm not a very good crack climber, just being able to be in that environment is a gift.
Of course climbing abroad is so special! A few years ago I went climbing in the South of France, in the Gorge du Tarn. We stayed in a beautiful gitte –it was so magical. And much life Indian Creek –Paris nearly brought me to tears too.
Urban Decay 5.12c at The Hood, Mt. Charlston, NV Photo: John Vallejo
RRRG: Do you ever feel fear when climbing? What type of situations might bring this out and how do you end up resolving these emotions?
Stephanie: That's a tough question. Yes, I definitely feel fear –it's what's held me back in climbing and it's also what's pushed me and forced me to stay focused. How I resolve the issue depends on the nature of the situation. Overall, I try to revert to logic and acknowledge that while I'm experiencing this emotion, I know that my belayer is on top of it, my gear is great and that I'm well-prepared, strong, etc. Positive self-talk.
RRRG: Outside of climbing, and your daily career, you are also very much involved with the HERA foundation. Can you please explain your role in it, why this organization was created, what it's about and how it is related to climbing as well?
Stephanie: I was a founding board member of the HERA Foundation, which is a non-profit organization that raises money to fund ovarian cancer research and awareness initiatives. Sean Patrick, HERA's founder, and I met in the early 90's when we were both living in Aspen and learning to climb. She was older than I and was a sort of mentor for me in those days.
She was diagnosed with ovarian cancer and decided to do an event, Climb4Life in 2002. I jumped on board to help plan the event and the rest is history. HERA has raised over a million dollars for ovarian cancer research, funding researchers at Johns Hopkins and MD Anderson.
Currently, my public relations agency, Forte Creative Media, handles HERA's PR and we also manage the HERA Partners in Action program, which is a program where manufacturers produce products that have a give-back to the foundation.
RRRG: What is your training schedule like in the winter?
Stephanie: I train all year and now, owning a business, my training and climbing schedule is very dependent on work. Overall, I do Bikram yoga three – four days per week, and train in the climbing gym two nights and climb outside one to two days per week if I can. I also do a lot of core work and weight train.
I used to run quite a bit too – I've done a few marathons in the past, though it really started to impact my knees so I've cut back.
RRRG: Are you projecting anything at this time outside?
Stephanie: I just came off of a really busy period with work so I recently started climbing outdoors again. I am trying a route at Mt. Potosi called 'Lawnmower Man'. It's a very short and powerful 5.13b – I've done a lot of routes at that grade but this one, because of my height, is very hard for me. I was close on it about 10 years ago, but then the season ended.
RRRG: What is your hardest lead to date? And at the same time, what do you think about basing your skill/strength level to a grade? Is it helpful? Is it not?
Stephanie: My hardest redpoint is 5.13d on 'Soul Train' at Mt. Charleston. Grades are a guideline – I've flashed 5.13b before and 'Lawnmower Man' is the same grade and it's really, very difficult for me. What's hard for me may not be hard for someone else due to size or perhaps strength and experience – grades are a good guideline but not something we should get too attached to.
RRRG: What are your other passions/hobbies besides climbing?
Stephanie: Yoga, writing, music (I love the blues!) and home improvements – in my next life I'm going to be an interior decorator. I love the theater, ballet, going to the Las Vegas Philharmonic and I've also become a huge fan of mixed martial arts. So while I love watching ballet, I also love a good UFC fight. Especially when Georges St. Pierre is fighting, he's my favorite.
Stephanie with Ben Young (left) owner of ADX and Bill Coburn of ADX at a red carpet even in Los Angeles that Stephanie's company, Forte Creative Media sponsored just prior to the fight.
RRRG: Hahaha…those are definitely extreme ends of the spectrum. Please tell us what you do for work?
Stephanie: I own a public relations agency, Forte Creative Media. We specialize in mixed martial arts, outdoor sports and health and fitness related brands. Right now, I feel really fortunate to have landed XYIENCE, the official energy drink of the UFC, as a client. It's been great discovering the world of mixed martial arts and the UFC. It's opened my eyes to a sport I may not have otherwise have been exposed to. The athletes in MMA are incredible, some of the most highly trained athletes out there. I also love it when I'm talking about climbing to someone in the MMA world, like a fighter or trainer, and they tell me how crazy climbing seems.
RRRG: What are your future goals in regards to climbing and personal?
Stephanie: My goal is to live a happy and peaceful life. I want to continue to enjoy my life, my friends and continue to travel and meet interesting people and experience beautiful places.
RRRG: That sounds like a great plan. :) Thank you so much for chatting with us, Stephanie!
Stephanie Forte's website is: www.ForteCreativeMedia.com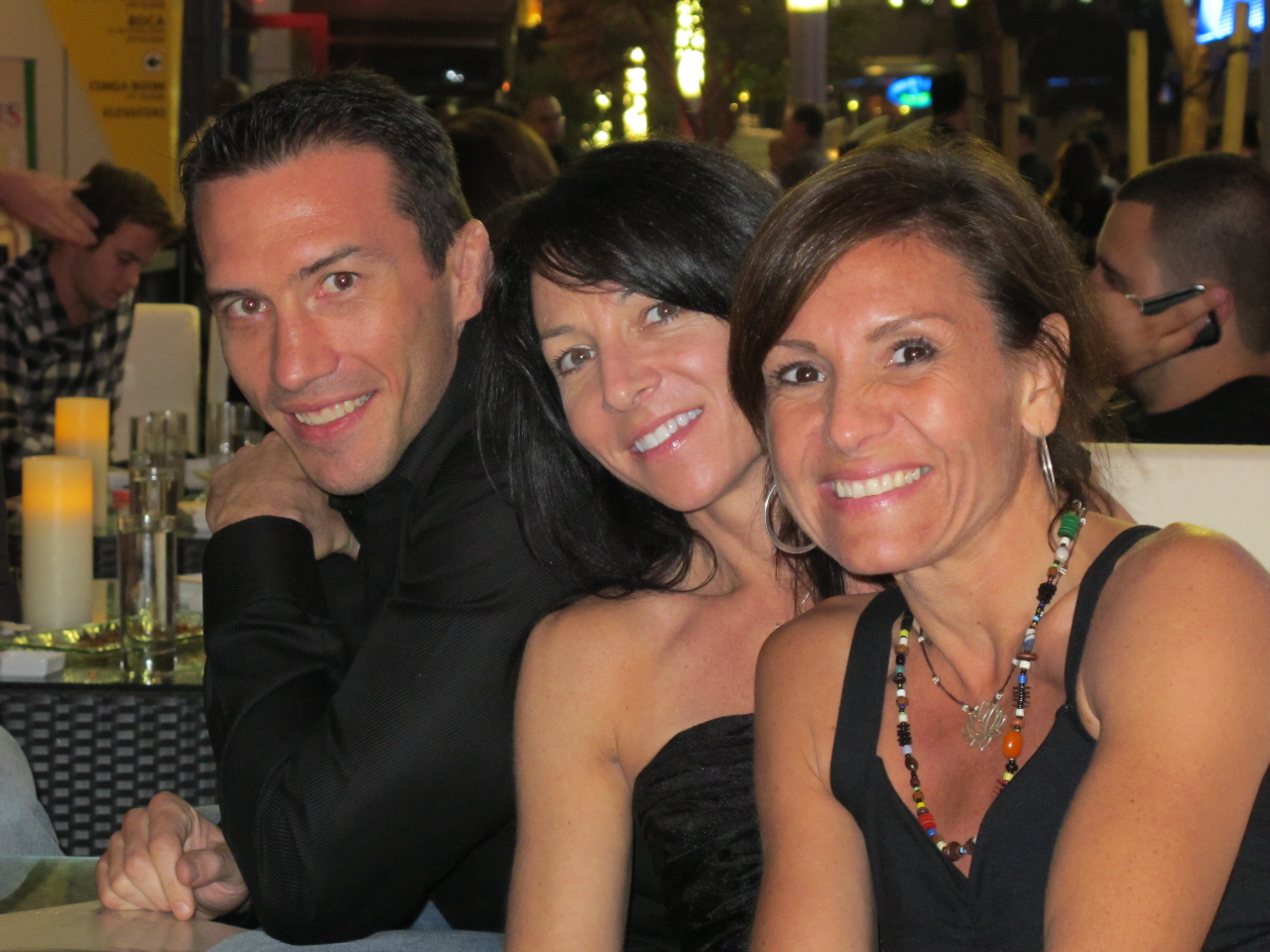 UFC Fighter, Nate "Rock" Quarry, Stephanie and Stacy Renee Tower, publisher of MMA Authority Magazine

Stephanie with the UFC President, Dana White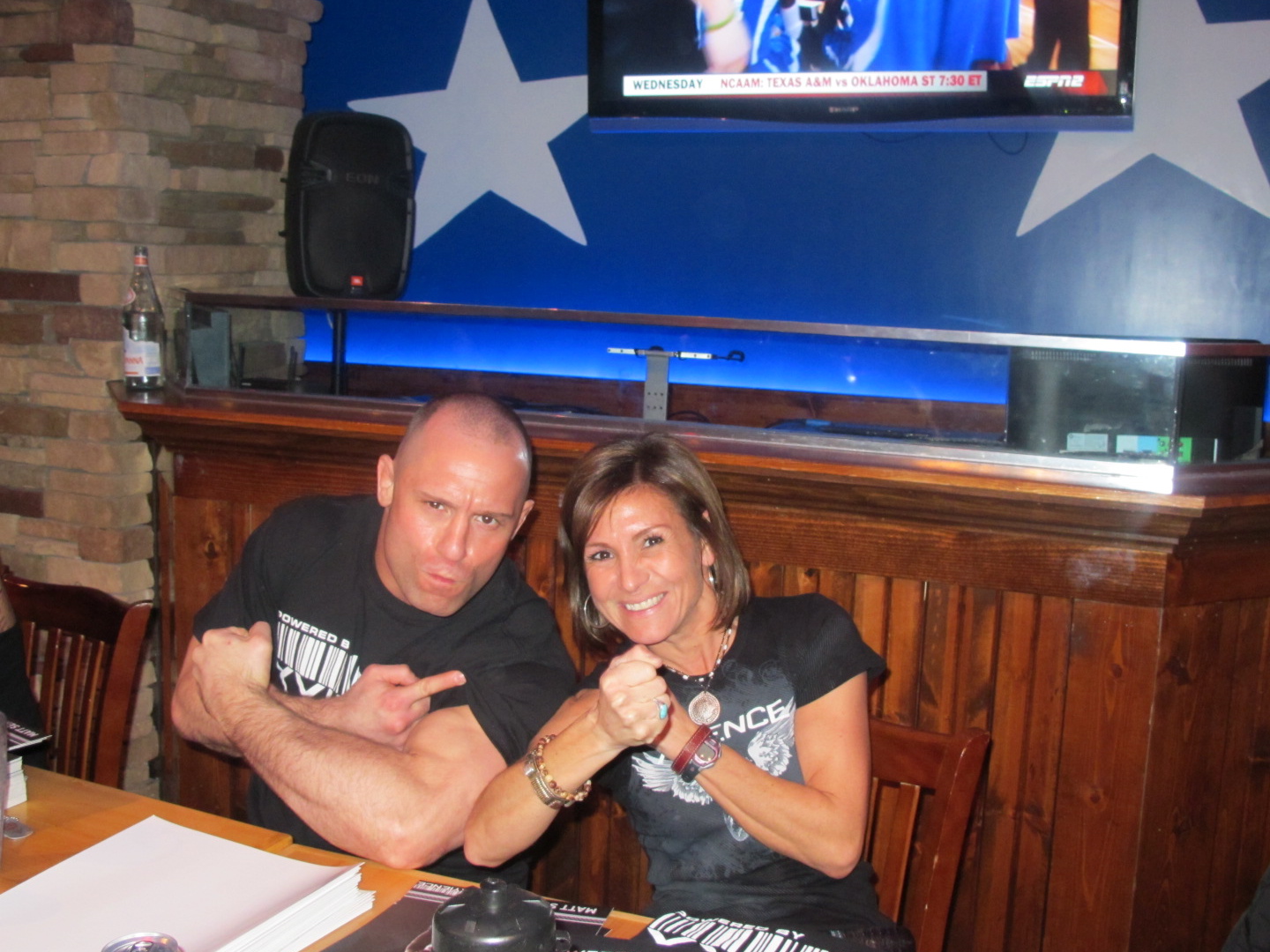 Stephanie with XYIENCE athlete/former UFC Welterweight Champion, Matt "The Terror" Serra.

Stephanie showing her moves to XYIENCE athlete/legendary UFC fighter Wanderlei "The Axe Murderer" Silva.
Interview by Christine Cauble